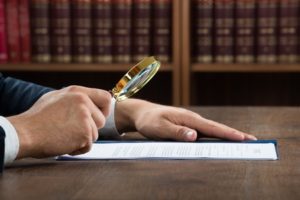 We can all make a mistake and end up on the wrong side of the law. Tulsa criminal records can happen to the best of us. We learn and move on.
Oklahoma laws passed in 2016 make it easier than ever to move on. With the help of an experienced attorney, you can expunge non-violent Tulsa criminal records.
What is an Expungement of Tulsa Criminal Records?
An expungement is a sealing of Tulsa criminal records that acts as an erasure. It is as if the crime never occurred.
You may wonder how this is possible, but the benefits are clear. Imagine for a moment that you had a magic eraser and could go back and just erase that mistake.
Once records are expunged, it is as if the criminal action never occurred. Also, when you're asked if you have ever been convicted of a crime, you can legally say "no." (Okla. Stat. tit. 22 § 19(F))
That makes it easier to get a job, to get rental housing, and to get loans at a lower interest rate. It allows you to get and keep professional licenses. Increasing your ability to work and earn correlates to more peace of mind and more success in both your personal and professional life.
How Do I Get an Expungement?
There are two types of expungement possible in Oklahoma, expungement of your entire criminal record (Okla. Stat. tit. 22 § 18) and expungement of your name from court records (Okla. Stat. tit. 22 § 991c).
A Section 18 expungement is a more complete expungement — it seals the arrest record, court records, and online court records and background checks.
It requires a complicated application process best handled with an attorney, and is available to anyone within the following categories:
you were acquitted of the crime; or
your conviction was reversed by a higher court and the matter was dismissed; or
DNA evidence proves that you are innocent; or
you received a full pardon from the Oklahoma Governor based on a finding of innocence; or
you were arrested but not charged, and the time has expired for charges to be filed against you; or
you were under 18 years of age at the time the offense was committed and you have received a full pardon.
You may also qualify for the immediate expungement of a misdemeanor that involved no jail time and where your fine was less than $501, or one year after completing a deferred judgment or suspended sentence on a misdemeanor charge. Expungement is allowed if you have not been convicted of a felony and there are no current felony or misdemeanor charges pending against you. (Okla. Stat. tit. 22 § 18)
Under the new statute you may become eligible five years after the completion of a deferred judgment or delayed sentence on a non-violent felony charge, or five years after completing a sentence in a misdemeanor conviction that resulted in jail time or a fine in excess of $500.
Violent felonies are not eligible for a Section 18 expungement.
Free Consultation: Tulsa Expungement Attorney
The skillful, aggressive, and compassionate lawyers at the Tulsa Criminal Defense Law Firm can provide a free, no-hassle, and confidential consultation about expungement questions in your specific case.
Simply call 918-256-3400 today for a free consultation with a Tulsa expungement attorney.
If you prefer, you can use the box in the upper right-hand corner of this page to send a question or brief message.